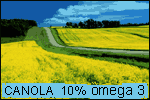 1. About omega-3's: "...relatively simple dietary changes achieved

greater reductions in risk of all-cause and coronary heart disease mortality .. than any of the cholesterol-lowering studies to date.

This is emphasized by the finding that the unprecedented reduction ... was not associated with differences in total cholesterol.." This is from a landmark editorial in Circulation about the 70% [!] reduction in deaths in those given 2 table-spoons of canola oil per day, most as a non-hydrogenated margarine given to the family. One measly tea-spoon of flax (linseed) oil has as much omega-3 (alpha-linolenic). Flax, a unique nutritional power seed.

More about this Lyon Diet Heart Study and the oil that 'prevents' 75% (!) of heart attacks is in Lancet 1994: 1454-9, AJCN; 1995: 1360S-6 and Circ; 1999: 779-85. Read the full data [it's a little tough] and you'll agree that this regimen is best described as "The Canola Oil Happy French Cuisine". Canola (rapeseed) is cheap, like its sister, mustard seed oil. Cold pressed little refined canola tastes as good as English-walnut oil, another rare source of omega-3. Canola may well lower the risk for stroke, and there was also much less cancer in the Lyon canola group. More evidence 75% fewer heart attacks: 'important protection against cardiovascular disease' at the top intake of plant-based omega-3.

Just a few grams of omega-3 per day prevents irregular heart beat [arrhythmia] and decrease inflammation and promote blood flow and help keep a by-pass open and protect you after a heart attack. Omega-3 from fish oil safely lowers the need for pain killers, from Aspirin to Celebrex, and they slash 'triglycerides' (high blood fats). Imagine: 2 grams/day of fish oil after heart attack: 20% fewer deaths and 45% fewer 'sudden' deaths (GISSI trial). Omega-3 is the rediscovered half of what used to be called vitamin F -with the F from Fat. It takes omega-3 to balance the other half of vitamin F, the omnipresent omega-6 from soy, corn, sunflower, safflower and cottonseed, Linoleic Acid (LA). Polyunsaturate has become synonymous with omega-6 only, which now appears to be part of a health disaster in heart disease, diabetes and cancer, especially breast cancer, excessive blood clotting and immune system problems including asthma. Making things worse since 1911, hydrogenation trans-forms unsaturates and messes with their vitamin or structural roles while raising bad-boy Lp(a). Hydrogenation preferentially zaps the most precious oil of all: omega-3. Virgin olive is a healthy omega-9 oil but a poor source of omega-3 at only 0.6%.
Saturated fat, 40% of grey matter brain-fat, gives anchor and structure. Mono unsaturate (olive, canola) has molecules with 1 rigid 60º bend, 2x unsaturate linoleic (corn, soy) has 2, alpha-linolenic (flax, canola) 3, and EPA and DHA (fish) have 5 and 6 such bends. The 3, 6 or 9 with the letter omega is the location of the first bend from the fatty end. Factory partial hydrogenation straightens these 'functional bends', leaving an oil unsaturated but with toxic 'trans' kinks. All fats are mixes of various fatty acids from 4 to 22 carbons long. Health depends on the length and the number and place of the 'cis' bends.
Fats: carbon chains with a fat end on one side, an acid end on the other
10 to 12 carbons (short): saturates found in coconut and palm-kernel oils (50%), in breast milk fat (10%) and in butter fat (5%). Not made in people except for baby. Anti-virus, anti-bacterial and energy roles; easy to digest.
16 carbon saturate: palmitic acid, made in our bodies (with the aid of insulin) when we eat excess sugar or starch [as do cows, pigs, poultry, etc.]. We can stretch this 16 to an 18 carbon saturate and make mono [not poly] unsatutrates out of either, like the ones dominating in olive, canola, and in "peanut, pork 'n poultry".
18 carbon polys: the "essential/must-eat" polys: omega-6 linoleic (always excessive) and omega-3 alpha-linolenic (rare and beneficial; good mixes in canola & flax).
20 carbon polys: the omega-3 [EPA] and omega-6 [AA] unsaturates we use to make (cell-wall generated) regulating-hormones (clotting, unclotting, pain, cramping, inflammation, anti-inflammation, etc.). The 3's prevent irregular heart beat (arrhythmia) and they must balance the 6's. Used for nerve and cell-wall function (yes, walls function). Fish is best source but we make some EPA from the 18 carbon plant omega-3.
22 carbon poly: DHA, the very delicate omega-3 polyunsaturate found in fish. This is the 8%-of-the-brain-fatty acid we use for thinking. It is effectively the keyboard of the eyes, brain and nerve cells. From fatty fish but not self-made from plant omega-3.

Adults, but not babies, slowly change the omega-3 from seeds or leaf veggies into EPA, one of the two omega-3's found in fish. Both fish-oil derived fatty acids are found in our eyes, nerves and brain and are key for hormonal and cardio-vascular balance [and for full-term births]. Unlike human and horse milk, cow milk and most vegetable oil based baby-formula don't have the omega-3s needed for brain development between the last

months before birth to age 2.

One of these fish oils -DHA- does much of the work after a signal hits the brain/nerve cell while the other -EPA- is present in very small amounts to control the beginning and end of this work; it controls a thought, motion, depression or mood swing from start to finish. In fact, the over-activity of certain brain-fats due to insufficiency of EPA [~1.8g/d?] may well underlie schizophrenia and some types of depression [Fincastle], Huntington's and post-partum (birth) depression. Depression also predicts heart disease.

Or, thinking "nutritional deficiency" (made worse, trust me, by masses of omega-6), a lack of omega-3 [EPA] may be a common linking cause in schizophrenia, (bipolar)/-depression, M.S., cancers, adult diabetes, bone and heart disease [Horrobin et al]. Think: there's the DHA of a 2 kg (5 lb) salmon in your head --and appropriately enough, the molecule is shaped like a ?

mark or fish-hook -in fact, it wiggles like a worm on a hook, millions of times a second, around that basic shape, making it arguably the brain's most versatile molecule. This fat, DHA, is the keyboard of your eyes, the processor chip of the computer in your brain and may help prevent Alzheimer's Disease!
Another 1999 study found a 60% reduction in sudden heart deaths in the high omega-3 oil group -when associated with high vitamin E or low trans fat intakes: Am J Cl Nutr; May 99. Fish oil is high in omega-3 and dramatically lowers blood triglycerides in people with very high starting levels: NEJM; '85:1210-6
An overview by Dr. Simopoulos of benefits of omega-3 and dangers of excessive cholesterol lowering omega-6 linoleic (again: soy, corn, sunflower, cottonseed and safflower) is here: Am J Cl Nutr; Sept '99. She has a practical book the Omega Diet. Simply put: consume some canola [rapeseed, mustard] and flax, and soy in a pinch, and easy on the rest. Some of the Heavy Science is here. Fish oil (pills, vital to spare fish stocks) plus plant based omega-3 halves heart attack risk. How bad is that??

The table above by the 'cream' of the world's fat experts is the standard by which fats, oils, mayos, margarines and labels must be measured. If the label is bad, don't buy the fat. There was some 2004 tweaking where marginally less alpha-linolenic is called 'healthy'. Minimum 0.5g EPA+DHA is suggested for heart-health. Since 2002, the American Heart Association agrees. ISSFAL opposes trans-fats, made by industry from the healthiest of fatty acids.

Time for an oil-change... to unhydrogenated canola, flax (lin)seed & fatty fish. Unhydrogenated soybean
might be o.k. but it's also high in omega-6 linoleic, already an excess in most Western diets (an average person already stores over 1 kg -3 lb; see also points 29 and 30 below). Here's an omega-3 reference for the little heart disease [and depression] in Japan where the oils are fish, canola and soy: AJCN; Jan. 2000, and here's the history of omega-3 by pioneer Ralph Holman. P.S. You may want to add some vitamin E to your oils and refrigerated them: they (like cholesterol) become harmful when damaged by processing, heat or light. While motor oils are designed for engine health, most "vegetable oils" are engineered for corporate health, lack of flavor, clear appearance and shelf life. Short-chain saturates store well and are safest for frying.