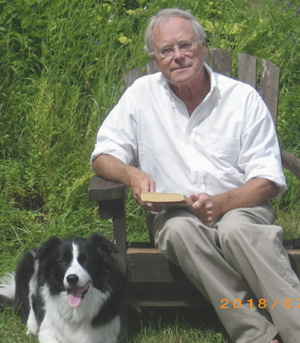 Here's a little info about Eddie Vos, the man behind health-heart.org.
I am a 75 year old forensic investigator (M. Eng.) with no sign of the diseases I write about. Close to Montreal, I determine the causes of technical failures. I find the physical evidence and add it up in a report. More important forensics, however, focuses on "age-related diseases", some that popped-up in the last century, for example why arteries corrode and fail. After all, arteries are pipes and the heart is a pump.
Growing up in Holland, my first English book was The Origin of Life by Russian scientist A.I. Oparin. I got a biochemistry scolarship but chose material sciences engineering, so a long-term fascination about how-life-works was born. Now my reading is from my large library, from journals and from sites like Medline, anyone's free internet medical library or consumer info.
We all deserve a scientific interest so this site is a model-train of sorts and to keep it on-track and independent, it will not generate money from the mentioned approaches. Medical or dietetic associations, drug or food companies can't sanction me, so I am free to follow unadvertised and less traveled tracks, if that is where the science goes.
The reward from this hobby is in meeting and corresponding with some of the remarkable people in the field, from lay-people to icons, in following the science and attending relevant conferences. I contributed to over 25 references on Medline.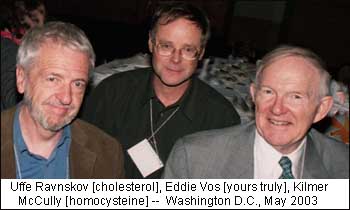 The responsibility of running this website is that it can affect people's health. I answer all e-mail and while careful to indicate I'm not a doctor and while supplements cause about 1 million times fewer premature deaths than drugs, some nutrients can act like them or change their action. With people taking increasing amounts of drugs, it is evident, for example, that people on blood thinners shouldn't overdose on fish-oil or vitamin E and there are some other drug-nutrient interactions.
The concept behind the site, the age-old "let foods be your medicine", is based on the fact that all diseases may be helped, caused or made worse by nutrition. You are what you ate, and become what you don't eat -deficient and ill. A well balanced diet will not get you all the nutrients you need is a reality confirmed by almost every issue of the Journals I read. Only a multivitamin lowers the universal toxin we all make, homocysteine, and that is linked to stroke, heart disease, macular degeneration, bone fracture, Alzheimer's, etc., diseases where drugs (logically) generally fail in prevention, and in cure. I would not think going a single day without a multi -- the ONLY way to lower homocysteine, the "universal body corrosive". Cheap and sure.
I've never had a regular doctor, fry my eggs in butter and take my daily no-iron Twinlabs multivitamin and a few other supplements, including magnesium + extra D3 [total 4000 IU/day], a few grams of C and betaine [B14]. I keep up my omega-3's [flax or canola + 1 fish-oil pill] and avoid hydrogenated or deep fried foods and most commercial cereals. Yes, it's easy to not get enough fruits and vegetables but as the Lipitor ad on U.S. TV said: "no body is perfect."
I hope this website serves you well. I take responsibility for the site and I extend my appreciation to many others having contributed. Publications:
* Vos E, Biron P. Strokes, cholesterol and statins: When mortality is an endpoint. Atherosclerosis 2018.
* Vos E, Biron P, Rose CP. Statins - Why No Mortality Benefit in the Elder. Letter in Circulation 2017.
* Vos E, Nguyen PV, Biron P, Rose CP. When and Why Statins Fail to Save Lives. Am J of Medicine 2017.
* Vos E, Rose CP, Biron P. Why statins failed to reduce mortality in just about anybody. J Clin Lipidology, a debate 2013.
* Vos E. Risk of diabetes from statins may be higher in women. Br Med J 2011.
* Vos E. Considerable uncertainty remains in the evidence for primary prevention of cardiovascular disease. CochraneSystRev 2011.
* Vos E. All-Cause Mortality, Cholesterol and Eggs. Can J Cardiology Letters and response. 2011.
* Vos E. Osteoporosis Guidelines Miss Big Picture. Can Med Ass'n J Letter April 5 2011.
* Vos E, Cunnane S, Lanzmann-Petithory D. n-3 Fatty Acids and Cardiovascular Events. New Engl J Med March 3 2011.
* Vos E, Rose CP, Biron P. Original title: Statins don't extend lives in high-risk women. Circulation Letters Dec. 7, 2010.
* Vos E. High-Dose Statin, Not so IDEAL? J Am Coll Cardiol June 1, 2010.
* Vos E, Rose CP, Biron P. JUPITER, a statin trial without cardiovascular mortality benefit. CircOutcomes Letters 2009.
* Vos E, Nehrlich HH. Use of statins and incidence of dementia and cognitive impairment [..]. Neurology Aug. 2009.
* Vos E, Mascitelli L, Langsjoen PH. Statin Contraindicated in Heart Failure. Angiology Oct/Nov 2008.
* Vos E. Homocysteine Levels, Paraoxonase 1 (PON1) Activity, and Cardiovascular Risk. JAMA July 9 2008.
* Vos E, Mascitelli L, Rose CP. Does simvastatin save lives: if so, when and in whom? J Vasc Surgery April 2008.
* Mascitelli L, Vos E Analyzing the Results of the Treating to New Targets Study. Ann Int Med Feb. 19 2008.
* Vos E, de Groot P. Low LDL cholesterol, statins, and brain hemorrhage: Should we worry? Neurology Oct. 2 2007.
* Vos E, Mascitelli L. Statins have no role in Pulmonary Disease Mortality. Chest 132(4) Oct. 2007.
* Vos E. Letter to Editor (Lower LDL-cholesterol may be worse) Can J Cardiol 2007.
* Vos E. Statins for Women, Elderly: Malpractice? Nutr Metab & Cardiovasc Dis 2007 [Medline 17391949].
* Vos E, Jenkins DJ, Cunnane SC. α-Linolenic acid and fish oil n-3 fatty acids and cardiovascular disease risk. Am J Clin Nutr 2007 85:920-1.
* Vos E. Multitherapy for diabetes. Can Med Ass'n J. Nov 7, 2006. [HTML]
* Vos E, Rose C. Risk Factors for Cardiovascular Disease in Women. JAMA Dec. 14, 2005.
* Vos E, Rose C. Questioning the benefits of statins. Can Med Ass'n J. Nov. 8, 2005. [html]
* Vos E. Use of statins not supported by study. Br Med J. 2005 (331):159.
* Vos E. Modified Mediterranean diet and survival. Key confounder was missed. Br Med J. 2005 (330):1329.
* Vos E. Nuts, omega-3's and food labels. Can Med Ass'n J. Oct. 12 2004 171(8):829.
* Vos E, McCully KS. A comment on safe upper levels of folic acid, B6 and B12. J Orth Med. 2003 (18): 166-7.
* Vos E. Linoleic acid, "Vitamin-F6" -is the Western world getting too much? Probably. Lipid Technology. July 2003: 81-4.
* Vos E, Cunnane SC. Alpha-linolenic acid, linoleic acid, coronary artery disease and overall mortality. Am J Clin Nutr. 2003 77:521-2.
* Papas A, Vos E. Vitamin E, cancer, and apoptosis. Am J Clin Nutr. 2001: 1113-4.
* Vos E. Multivitamin supplements are effective and inexpensive agents to lower homocysteine levels. Arch Intern Med. 2001 161:774-5.
* Vos E. Whole grains and coronary heart disease. Am J Clin Nutr. 2000 71:1009.
* Vos E. The role of sugar in the etiology of heart disease. J Orth Med. 1998: 182.